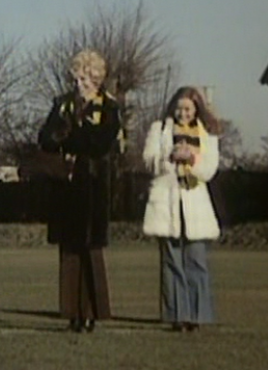 Zoe Hendry is a British television and film actress who has appeared in mostly non-speaking parts in such 1970's films as "Confessions of a Window Cleaner," "To the Devil a Daughter" and "What's Up Nurse?" Not much is known about her career. Her earliest role was as a spectator in a white coat in the Coalpits episode of "The Benny Hill Show," later starring in "Confessions of a Window Cleaner" with Clare Russell. She also starred in "The Man Who Couldn't Get Enough Butterfly," "Queen Kong with Jeannie Collings," the TV mini-series "Thérèse Raquin" and "A Chamber of Horrors" in 1983. She also had appearances in "The Hitch Hikers Guide to the Galaxy," "Legacy of Murder," "Jury" and "Jemima Shore Investigates." In recent years, the petite five-foot-two actress has done radio plays on BBC Radio 4.
Episode(s)
Edit
---
Ad blocker interference detected!
Wikia is a free-to-use site that makes money from advertising. We have a modified experience for viewers using ad blockers

Wikia is not accessible if you've made further modifications. Remove the custom ad blocker rule(s) and the page will load as expected.