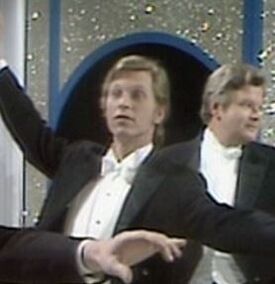 Walter Cartier is an English dancer and choreographer. Not much of his life and career is unknown. He starred as a cotillion dancer and a Frankenstein singer on the March 11, 1970 episode of "The Benny Hill Show," in the movie version of "Fiddler on the Roof" and in the 1982 movie "Lookin' to Get Out." He lives in the U.S. today.
He is to be confused with the late American boxer Walter Cartier, who starred in a string of movies in the Forties and later had a role on "The Phil Silvers Show."
Episode(s)
Edit
---
Ad blocker interference detected!
Wikia is a free-to-use site that makes money from advertising. We have a modified experience for viewers using ad blockers

Wikia is not accessible if you've made further modifications. Remove the custom ad blocker rule(s) and the page will load as expected.