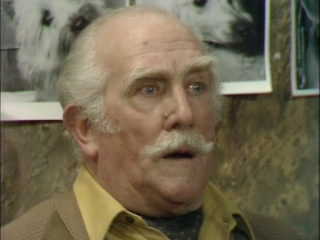 Walter "Wally" Goodman is an English actor who starred mostly in bit parts and comedic roles in British television and movies. Mustached and often bespectacled, he appears in bit parts in "Eddie in August," "Timeslip," "Doomwatch," "Are You Being Served" and "Public Eye" before appearing in periodic sketches on "The Benny Hill Show." Between 1969 and 1973, he appears credited and uncredited in the sketches "Jackie Wright's Holiday," "The Short Happy Life of Maurice Dribble," the original 1970 "A Tribute to the Lower Tidmarsh Fire Brigade" and "Woodstick" among others. He recieved a credit for his appearances in The Best of Benny Hill, later appearing in the British TV shows "Microbes and Men," "Man About The House" and "Doctor Who." His most recent appearance was the 1985 movie "Santa Claus."
Episode(s)
Edit
---
Ad blocker interference detected!
Wikia is a free-to-use site that makes money from advertising. We have a modified experience for viewers using ad blockers

Wikia is not accessible if you've made further modifications. Remove the custom ad blocker rule(s) and the page will load as expected.