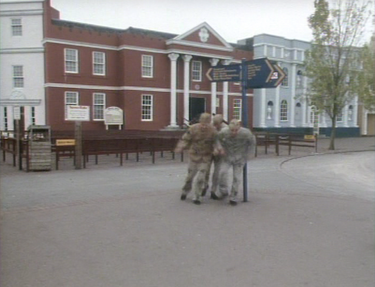 Thorpe Park is a theme park with a hotel in between the towns of Chertsey and Staines in Surrey, England, UK. It is operated and owned by Merlin Entertainments and was built in the 1970s on the gravel pit created after the demolition of the Thorpe Park Estate. Partially flooded, the area was used to create a water-based theme for the park. It was officially opened to the public by the late Lord Louis Mountbatten in 1979.
The location was used in several sketches in the Late 1980s. it first appears on March 16, 1983 when the Saucy Boy tries escaping his pursuers and again on March 31. 1986 when Rembrandt is pursued. Part of the grounds appear in The Crook Report sketch on February 8, 1989. Benny Hill brings the Hill's Little Angels here for fishing on May 1, 1989 and encounter escaping convicts trying to escape through the park.
Thorpe Park is an actual park open to the public.
Episode(s)
Edit
---
Ad blocker interference detected!
Wikia is a free-to-use site that makes money from advertising. We have a modified experience for viewers using ad blockers

Wikia is not accessible if you've made further modifications. Remove the custom ad blocker rule(s) and the page will load as expected.