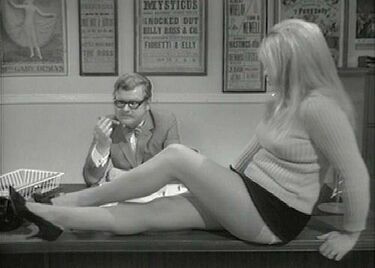 Production
Edit
Episode: 5
Date: October 14, 1970
Time: 50:44
Musical Director:
Vocals: The Ladybirds
Choreography:
Producer: John Robins
Director: John Robins
Writer: Benny Hill
Quickie - Park Bench
Monologue - Suitcase on a Train
Quickies - 11
The Mask
Guest - Los Zafiros
The Bill Stickers
Quickie - British Arms
Bloopers - 11
Fred Scuttle
The Underwater World of Jacques Custard
World of Change
Guest - Two's Company - September Song
Monologue - Ted
Ballad - Jose's Cantina
Tag - The Court-Martial
Highlights
Edit
The Underwater World of Jacques Custard
Several clips from this episode made it into the The Best of Benny Hill.
Nicholas Parsons does the opening.
"The Underwater World of Jacques Custard" is a spoof of the Jacques Cousteau documentaries of the 1960s.
---
Ad blocker interference detected!
Wikia is a free-to-use site that makes money from advertising. We have a modified experience for viewers using ad blockers

Wikia is not accessible if you've made further modifications. Remove the custom ad blocker rule(s) and the page will load as expected.