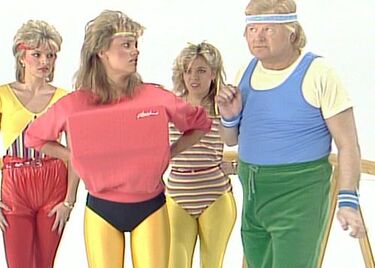 Production
Edit
Episode: 48
Date: April 25, 1984
Time: 50:15
Musical Director: Ronnie Aldrich
Vocals: The Ladybirds
Choreography: Libby Roberts
Producer: Dennis Kirkland
Director: Dennis Kirkland
Writer: Benny Hill
Highlights
Edit
The Vagabond
In "The Human Body," Benny tries to redesign the human figure.
In the "St. John Thomas Hospital" tag, Benny stops the chase to remove an annoying thread appearing in the footage.
Fizz Waters, the assistant stage director, appears on stage to let Benny know the show ran short in a rare ending of the series.
This episode appears on the "Golden Sniggers" VHS.
The episode reuses footage from the "Grand Wheelchair Rally" sketch from Friday Night Fever.
---