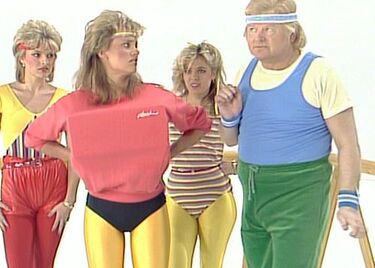 Production
Edit
Episode: 48
Date: April 25, 1984
Time: 50:15
Musical Director: Ronnie Aldrich
Vocals: The Ladybirds
Choreography: Libby Roberts
Producer: Dennis Kirkland
Director: Dennis Kirkland
Writer: Benny Hill
Quickie - 3
Monologue: League of Helping Hands
Quickies - 5
Hill's Angels - Acrobatics
The Human Body
Quickie: Why Wake Me Now?
The Boys are Back in Town
The Chicken or the Egg
Quickies - 3
The Hot Shoe Show
Benny Hill: Two Minutes Under
Tag: St. John Thomas Hospital
Highlights
Edit
The Vagabond
In "The Human Body," Benny tries to redesign the human figure.
In the "St. John Thomas Hospital" tag, Benny stops the chase to remove an annoying thread appearing in the footage.
This episode appears on the "Golden Sniggers" VHS.
The episode reuses footage from the "Grand Wheelchair Rally" sketch from Friday Night Fever.
---
Ad blocker interference detected!
Wikia is a free-to-use site that makes money from advertising. We have a modified experience for viewers using ad blockers

Wikia is not accessible if you've made further modifications. Remove the custom ad blocker rule(s) and the page will load as expected.