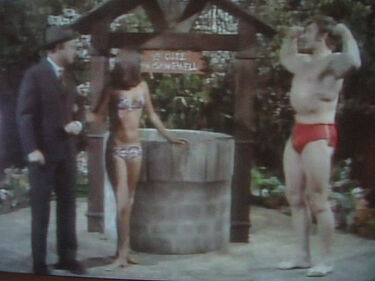 Production
Edit
Episode: 1
Date: November 19, 1969
Time: 52:20
Musical Director:
Vocals: The Ladybirds
Choreography:
Producer: John Robins
Director: John Robins
Writer: Benny Hill
Quickie - Ye Olde Wishing Well
Ballad - Anna Marie
Bloopers - 7
Video Delay with Edith Packet
The Lady Birds - Your Secret Love
The Russian Zone
The Lower Tidmarsh Hospital Service
Mrs. Fripp - TV's Most Loyal Viewer
European Song Contest
Tag: The Lady Catcher
Highlights
Edit
Ye Olde Wishing Well
The Russian Zone
The Lower Tidmarsh Hospital Service
Michael Sharvell-Martin is better known as one of the sketch performers on "Dave Allen at Large."
David Battley, the terse Russian Commander in "The Russian Zone" sketch, also played Charlie Bucket's school teacher in "Willie Wonka and the Chocolate Factory." Julie Dawn-Cole, who played Veruca Salt in the movie, was once erroneously believed have become a cast member on "The Benny Hill Show."
This episode has a rare appearance with Benny smoking a cigarette.
David Prowse went on to play Darth Vader in the "Star Wars" franchise.
Several clips from this episode made it into the The Best of Benny Hill.
---