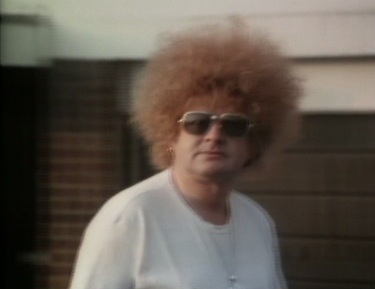 Tex Cymbal is a famous English entertainer described as "a legend in his own mind" and having a voice "like breaking wind (or a window)." He has a wild afro of red hair and tends to smoke cigarettes. His songs include "I Can't Leave Her Behind Alone," "What Is This Thing Called Love," "Gentle On My Mind" and "Lonely Boy."
Tex appears on the Michael Parkinspace (Benny Hill) TV series in a documentary about himself with an interview section and televised biography with interviews with friends, family and fans. His old grammar school teacher, Freda Drunge (Benny Hill), ducks spit wods in her class and confesses she thought Tex's songs were vulgar, even when he whistled them in class. Arthur Primm (Benny Hill), who owned the Denbigh Hall where Tex once performed, calls him a "juvenile delinquent."
In footage showing Tex recording "Gentle On My Mind," Tex rushes to dress, eat and drink during the instrumental portions of the song as well as seduce three backup singers (Libby Roberts, Moira Foot and Debbie Greenhill) while his back-up musicians (Eddie Buchanan, Jeannie Collings and Henry McGee) keep watching. The interviews continue with Tex's Mother (Benny Hill) and his Brother, (Benny Hill) who hates him so much he reveals Tex's name is Arnold Vevay, his heavy drinking, a baby with a girl named Angela and a lost bicycle pump. His mother shows off his first guitar won from a raffle before drinking from a bottle disguised as a lamp.
The interviews continue with one of Tex's Female Fans (Benny Hill) in the United States who is so excited to meet Tex that she urinates on herself. Tex also appears on the "The Old Grey Whistle Tester" program whose soft-spoken host (Benny Hill) interviews Tex's American tour manager Hank King (Benny Hill) as they review Tex's song "Lonely Boy," whose footage includes bizarre double imagery with Tex patting a singer (Libby Roberts) on her bosom. It also includes Tex in a pre-MTV video trying to romance a girl (Jeannie Collings) in a long white dress.
As the interview ends, Tex comments that success hasn't changed him. Although he's seen in an expensive car surround by fans, it pulls away to reveal him on the bicycle he rides home.
Benny Hill plays eight characters in this sketch.
Don Estelle was the male vocal singer in the wig and sunglasses.
The name Michael Parkinspace is a pun on the name of British TV host Michael Parkinson.
As the teenage girl, Benny makes topical references to Nixon, Watergate and Viet Nam.
Episode(s)
Edit
---
Ad blocker interference detected!
Wikia is a free-to-use site that makes money from advertising. We have a modified experience for viewers using ad blockers

Wikia is not accessible if you've made further modifications. Remove the custom ad blocker rule(s) and the page will load as expected.