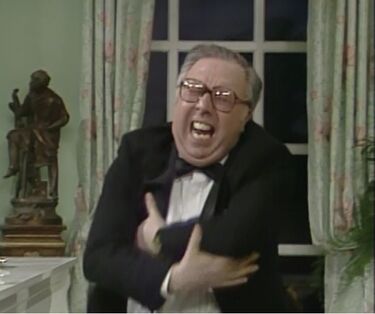 Ted Taylor is a British musician and pianist best known for supplying the supplemental music score for "The Benny Hill Show" from 1973 to 1989. He also appeared on screen in a few skits including "The Dalton Abbott Railway Porter Choir" sketch on March 29, 1973, the "Lower Tidmarsh Volunteer Fire Brigade Glee Singers" on March 24, 1976, the April 16, 1980 "Name That Tune" parody and as the wisecracking pianist in "The Herd" on March 31, 1986. He formerly led The Ted Taylor Four, a band who made records and appeared in cabaret on radio and TV. He also played the clavioline on many recordings for the John Barry Seven & Orchestra. His previous credits include work for "Studio E," "Playbox," "Juke Box Jury," and "Holiday Music." He passed away in 1992, just a few months before Benny Hill.
Episode(s)
Edit
---
Ad blocker interference detected!
Wikia is a free-to-use site that makes money from advertising. We have a modified experience for viewers using ad blockers

Wikia is not accessible if you've made further modifications. Remove the custom ad blocker rule(s) and the page will load as expected.