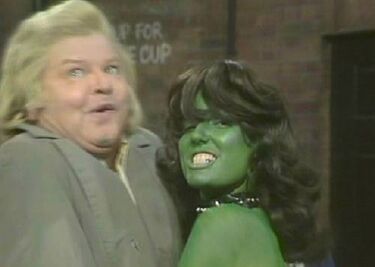 The She-Hulk is a green-skinned superhuman female from England. Not much is known about her identity or past or how she obtained her powers. In her true form, she looks like a normal brunette young lady, but when she gets angry or upset, she transforms into into a large green-skinned woman with incredible strength. When she became harassed at a bus stop by the men around her, she transformed in public and ripped up a lamp post; her harassers chasing her down the street trying to get closer to her.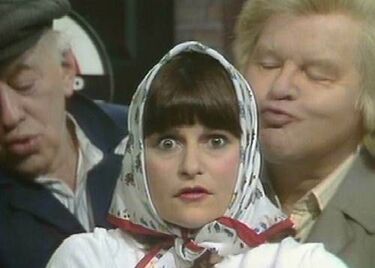 The She-Hulk was played by Clare Smalley (her human form) and Allison Bell (her superhuman form).
The She-Hulk was a spoof of the American TV series "The Incredible Hulk" TV series that ran from 1977 to 1982.
Two of the "men" around her are actually Louise English and Sue Upton in fake mustaches.
The alternating names on Clare Smalley's t-shirt are reportedly Benny's homage to several Welsh towns with nearly identical names.
According to an urban legend, Stan Lee created the Marvel Universe She-Hulk to keep from losing the rights to Benny Hill. In actuality, the reason behind the character's creation had to do with the success of "The Incredible Hulk" TV series. Marvel was afraid the success of the show might lead to a female version of the Hulk as had been done with "The Six Million Dollar Man," and Stan Lee and Marvel decided to publish their own version of such a character to hold on to the rights. The Marvel Comics version appeared in February 1980; Benny Hill's version actually appeared a year later in February 1981 while the American TV series was still popular.
Some resources erroneosly identify Louise English or Jane Leeves in the Clare Smalley role.
Episode(s)
Edit
---