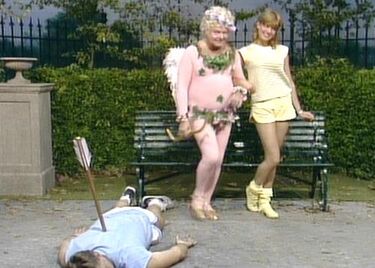 Production
Edit
Episode: 47
Date: January 16, 1984
Time: 51:39
Musical Director: Ronnie Aldrich
Vocals: The Ladybirds
Choreography: Libby Roberts
Producer: Dennis Kirkland
Director: Dennis Kirkland
Writer: Benny Hill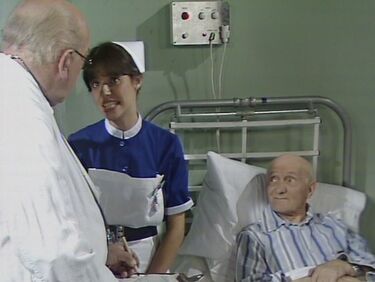 Highlights
Edit
Stupid Cupid
Cafe Bizarre
Fingers McNee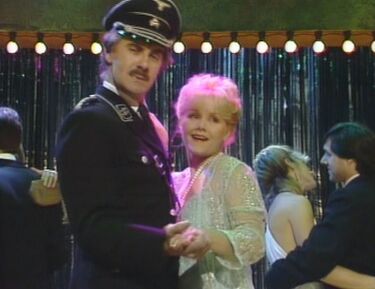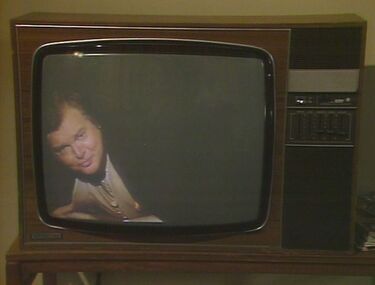 Fred Scuttle - "Columbojack. It's a cross between Columbo and Kojak."
Henry McGee - "Does he wear dirty rain coats or suck lollipops?"
Fred Scuttle - "He sucks dirty rain coats."
---
---
Fred Scuttle - "He's invented the ultimate weapon. He says it destroys people without destroying the house. Fred says we've got that in England. It's called a mortgage."
---
Wall Graffiti - "Why do bees hum? - They don't know the words."
---
Wall Graffiti - "What's the difference between a nice girl and garbage? - Garbage gets taken out once a week - Not around here it doesn't."
---
Wall Signage - "Customers are respectfully requested not to ask for credit... As a smack in the mouth might offend."
This episode appears on the "Golden Laughs" VHS.
The television quickie is a repeat of a gag Benny did in The Statue.
Dave Prowse (Darth Vader from "Star Wars") makes a cameo as a body-builder in the "Stupid Cupid" sketch. By this point in his career, he had already finished filming "Return of the Jedi."
---