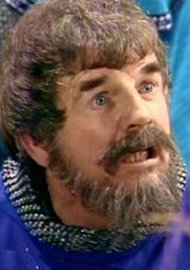 Born November 6, 1918 in Bristol, England, Ronnie Brody was an English comedy actor, best known for appearing in the BBC comedy sketch series, "Dave Allen At Large," with Dave Allen, Michael Sharvell Martin and Jacqueline Clarke. Not much is known about his life and career. His television appearances include appearances on "The Benny Hill Show," "Hancock's Half Hour," "Rising Damp," "Dad's Army," "The Sweeney," "The Goodies," "Are You Being Served?," "Hi-de-Hi!" and "Carry on Laughing," along with film appearances in "A Funny Thing Happened on the Way to the Forum," "Carry On Loving," "Don't Lose Your Head," "Finders Keepers," "Superman III" with Bob Todd and The Beatles film, "Help!" He passed away May 8, 1991.
Episode(s)
Edit
---
Ad blocker interference detected!
Wikia is a free-to-use site that makes money from advertising. We have a modified experience for viewers using ad blockers

Wikia is not accessible if you've made further modifications. Remove the custom ad blocker rule(s) and the page will load as expected.