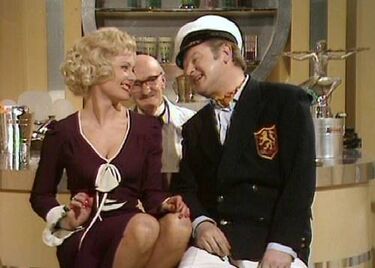 Roger Rogers is a passenger on an unidentified cruise line. Charming and winsome, he wins over the majority of the First Class passengers and a female passenger (Jenny Lee Wright) until it's discovered he's only a Second Class passenger. The captain (Bob Todd) soon discovers he's actually the owner of the ship and all is forgiven in time for Roger to catch the Phantom Prowler (Nicholas Parsons) harassing the female guests.
Rogers was played by Benny Hill.
This sketch was identified as "Passengers of Love," a parody of badly dubbed and overly-edited movies from the 40s.
This sketch was partially remade as "Love Ship" in the R. Dibble: Handyman episode. 
Episode(s)
Edit
---
Ad blocker interference detected!
Wikia is a free-to-use site that makes money from advertising. We have a modified experience for viewers using ad blockers

Wikia is not accessible if you've made further modifications. Remove the custom ad blocker rule(s) and the page will load as expected.