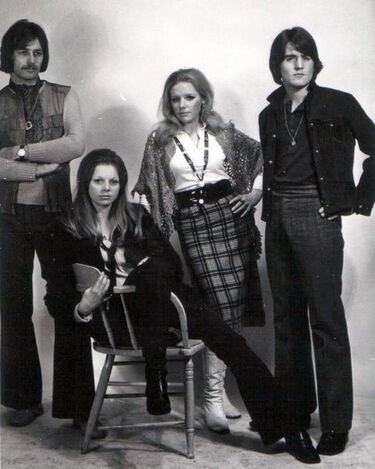 Petticoat And Vine was a folk-rock quartet that was active during the Late 60s and 70s. It was founded by singer Joan O'Neill and shared a turn-over like most Seventies bands. By time it appeared on the January 27, 1971 episode of "The Benny Hill Show," the group included Norman Smeddles, Lesley Eccles, lead vocalist Valerie Coughlin and Colin "Sid" Maddocks performing "Welcome To The World Of Love And Laughter." They also accompanied Benny Hill on his opening "Flying South" number as well as on "In The Papers" in the "Top of the Tops" sketch. They also appeared on shows hosted by Harry Secombe and Jimmy Tarbuck.
O'Neill still performs today with her own group. Her daughter is Melanie Chisholm of The Spice Girls. Maddocks and his wife, Barbara, are now travel agents.
Episode(s)
Edit
---
Ad blocker interference detected!
Wikia is a free-to-use site that makes money from advertising. We have a modified experience for viewers using ad blockers

Wikia is not accessible if you've made further modifications. Remove the custom ad blocker rule(s) and the page will load as expected.