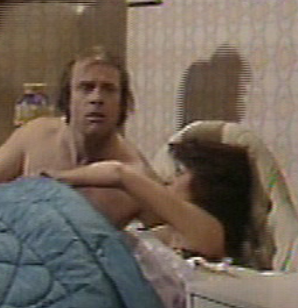 Pete Morgan is an English actor and musician whose work has appeared on "The Benny Hill Show" TV series and the mini-series "Gone to the Dogs."
Morgan started out as a member of the Morgan James Duo as a vocalist with musician Colin James. They released the songs "Sweet Pussycat" and "Put Your Tears Away" from Phillips Records between 1963 and 1968, eventually appearing on "The Rolf Harris Show," "Juke Box Jury" and "Thank Your Lucky Stars" before starting a tour through South Africa and the United States.
After they split up in 1969, Morgan started working as a musician and worked on television between making singles and albums. He eventually joined the Dudley Moore Trio and was a member of the Roy Budd Trio. He also appeared in an episode of "The Benny Hill Show" as Anne Bruzac's boyfriend in the "A Feast at the Beach" sketch and in the opening moments of the "Girls, Girls, Girls" sketch as well as one of the musicians in the Milk Marketing Board Band playing "At The Streaker's Ball."
Not much more is known about him.
Episode(s)
Edit
Ad blocker interference detected!
Wikia is a free-to-use site that makes money from advertising. We have a modified experience for viewers using ad blockers

Wikia is not accessible if you've made further modifications. Remove the custom ad blocker rule(s) and the page will load as expected.