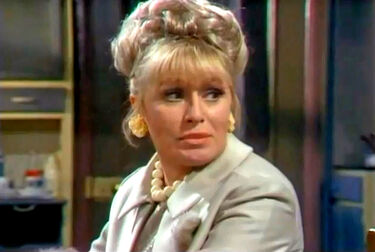 Pat Ashton was blonde Cockney actress, known for the movies "The Gaffer," "On the Buses" and "Mutiny on the Buses."
Born in 1931 in Wood Green, England, she was the granddaughter of a Russian trapeze artist, who had performed in front of Tsar Nicholas II. Trained from childhood as a singer and tap dancer, Pat acted in the London's West End and toured Europe with Joan Littlewood's Theatre Workshop production of "Oh! What a Lovely War" through the 60s.
Best known on screen for her recurring appearances in 1970's sitcoms and sketch shows, notably "On the Buses" and five episodes of "The Benny Hill Show." She was in the "Lover, Come Back to Me" duet with Benny on February 22, 1973, as Benny's duet partner in blooper segments and as the leading lady in "Crimson Shadow" on December 27, 1972. She also appeared in all the episodes of his 1980 Season and had an uncredited part on March 14, 1979 as a back-up singer in the Benny's Place number. Her other credits include the TV programs "As Thick As Thieves" and "The Gaffer."
She passed away on June 23, 2013 in Diss, England, survived by her husband, Geoff Goodwin.
Episode(s)
Edit
---