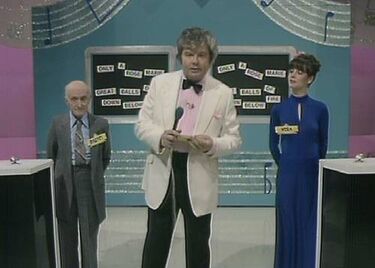 Production
Edit
Episode: 39
Date: April 16, 1980
Time: 51:33
Musical Director: Ronnie Aldrich
Vocals: The Ladybirds
Choreography: Linda Finch
Producer: Dennis Kirkland
Director: Dennis Kirkland
Writer: Benny Hill
Song: Love
Fred Scuttle: Happy Holidays
Benny's International Television

TV Romania: The Rose
1994: The Machines Rise Up

Women's Lib Television
Hill's Angels

New York, New York
Discotheque

Quickies - 4
Tag: The Three Musketeers
Highlights
Edit
1994: The Machines Rise Up
Name That Tune
Hill's Angels: New York, New York
Scenes from this show appear in the "One Night Video Stand" VHS.
"The Three Musketeers" sketch is based on the French novel, "The French Musketeers" by writer Louis Du Maurier which has been turned into several plays and films.
---
Ad blocker interference detected!
Wikia is a free-to-use site that makes money from advertising. We have a modified experience for viewers using ad blockers

Wikia is not accessible if you've made further modifications. Remove the custom ad blocker rule(s) and the page will load as expected.