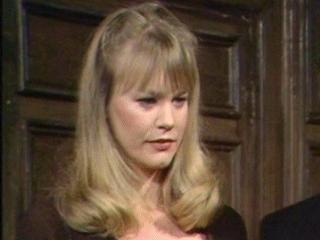 Moira Foot is an English actress probably best known for her appearances on "The Benny Hill Show" and "'Allo 'Allo!" in the Sixties.
Born June 16, 1953 in Northampton, England, the statuesque beauty is the daughter of writer Alistair Foot, co-writer with Anthony Marriott of the long-running farce, "No Sex Please, We're British."
There are not many details known about Moira's life and career. She has appeared in the British TV shows "Are You Being Served?," "Hark at Barker," "Six Dates with Barker," "His Lordship Entertains," "On the Buses," "Oh Happy Band!," "Maggie and Her," "Doctor at Large," "Quiller" and "The New Avengers." Her film credits include roles in "One Brief Summer," "On the Buses" and "The Strange Case of the End of Civilization as We Know It."
Episode(s)
Edit