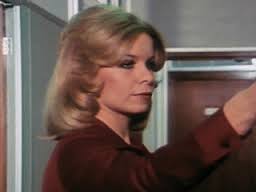 Malou Cartwright is an English actress, best known in England for appearing in the play, "No Sex Please, We're British" and the films "A Man with a Maid," "Marquis de Sade's Justine" and "Naughty Wives."
Not much is known about her life and career. Her first known credit was the film, "Naughty Wives" before starring on "The Benny Hill Show" for four episodes between 1973 and 1974. She appears in the "Match of the Week" sketch and with Diana Darvey at the start of the "Hawaii/Havaii" quickie on July 5, 1973, in one of the "Bo Peep" sketches on December 27, 1973 and in the two "Courting" quickies on February 7, 1974 in which she was uncredited.
After starring on "The Benny Hill Show," she had appearances in the TV shows "The Sweeney" and "The Professionals." Her last film role was "Marquis de Sade's Justine." Her later work is unrevealed.
Episode(s)
Edit
---
Ad blocker interference detected!
Wikia is a free-to-use site that makes money from advertising. We have a modified experience for viewers using ad blockers

Wikia is not accessible if you've made further modifications. Remove the custom ad blocker rule(s) and the page will load as expected.