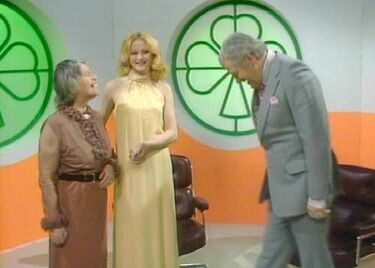 Production
Edit
Episode: 35
Date: March 14, 1979
Time: 50:33
Musical Director: Ronnie Aldrich
Vocals: The Ladybirds
Choreography: Dee Dee Wild
Producer: Dennis Kirkland
Director: Dennis Kirkland
Writer: Benny Hill
Baby Boy
Ballad: Benny's Place
Quickie: Tribute To Georgie Pest
National Health
Leprechaun TV - 10
Quickie: Cosmetic Surgery
No Place Like Rome
Marriage of Convenience
Hill's Angels - Hot Gossamer
Quickie: Noise Abatement Dinner
Poem: Fait, Ope and Carity
Quickie: Dentists Everywhere
Guest: Geraldine - Casablanca
Quickie: Dominatrix at Door
Wonder-Gran vs. Dracula
Highlights
Edit
First appearance with Dennis Kirkland as director.
First appearance of Wonder-Gran and the Hill's Angels
Selected sketches from this episode appear in the "Home Video Drive In" VHS from HBO Home Video.
---
Ad blocker interference detected!
Wikia is a free-to-use site that makes money from advertising. We have a modified experience for viewers using ad blockers

Wikia is not accessible if you've made further modifications. Remove the custom ad blocker rule(s) and the page will load as expected.