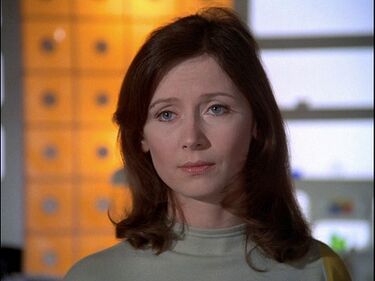 Laraine Humphreys is a British comedy actress possibly best known for her appearances in the films "Whose Baby?" (1973), "Carry On, Dick" (1974) and "Up Pompeii" (1971). She was born Laraine Joy Humphreys on August 22, 1953 in the South American Republic of Guyana.
Her earliest appearances were in the films "Say Hello to Yesterday" (1971), "Up Pompeii" (1971) and "Get Charlie Tully" (1972) as well as the TV shows "The Adventurer," "Barlow" and several times on "Space: 1999." She also appeared in two episodes of "The Benny Hill Show," including the "Hi Karachi" blooper on February 22, 1973. Her last appearance was in the film, "The Great Riviera Bank Robbery" as a girl in a villa. She has since returned to her modeling career.
Episode(s)
Edit
---
Ad blocker interference detected!
Wikia is a free-to-use site that makes money from advertising. We have a modified experience for viewers using ad blockers

Wikia is not accessible if you've made further modifications. Remove the custom ad blocker rule(s) and the page will load as expected.