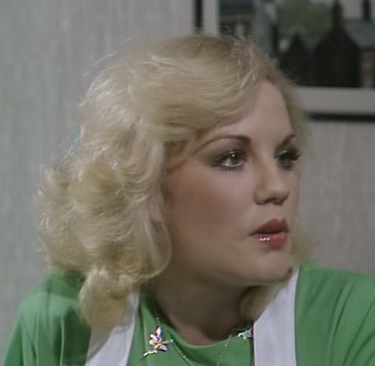 Jillianne Foot is an English actress, known for the movies "The Lady Vanishes," "Passport to Murder" and "The Jump."
Not much is known about her life and career. She was born in 1957 in Marylebone, England. Her first known credit was as a stable girl in the film, "A Country Cottage," followed by appearances in the TV shows "Happy Ever After," "The Standard Target," "The Morecambe & Wise Show" and "The Dick Emery Show." In 1978, she appeared on The Benny Hill Show playing the wife to Henry McGee in Hotel Sordide, an interviewer to Benny Hill as musician Marvin Lubtisch and a temperance lady to Benny as W. C. Fields. Through the Eighties and Nineties, Foot started getting billed as "Jilli Foot" and appeared on "The Kenny Everett Television Show," "Silent Witness," "EastEnders" and "Doctors" in 2009. She also starred in the movie "Passport to Murder." It has yet to be revealed if she is of any relation to Moira Foot.
Episode(s)
Edit
Ad blocker interference detected!
Wikia is a free-to-use site that makes money from advertising. We have a modified experience for viewers using ad blockers

Wikia is not accessible if you've made further modifications. Remove the custom ad blocker rule(s) and the page will load as expected.