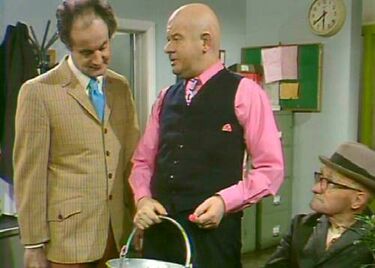 Production
Edit
Episode: 25
Date: December 17, 1975
Time: 50:17
Musical Director:
Vocals: The Ladybirds
Choreography:
Producer: Mark Stuart
Director:
Writer: Benny Hill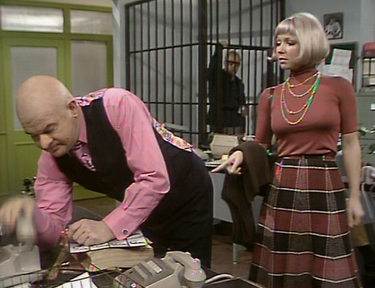 Quickie: Don't Jump!
A Host of Favorite Stars

Liza Minneli
The Amazing Kreskin
Moira Anderson

Opener: My Darling Lulu Belle
Fred Scuttle: Mind Reader
Quickie: Disorder in the Office
Quickies on a Dance Floor
Jack And Jill

Ironsides
That's Life
Cyril's Scrap Book
Kojak

Eddie Buchanan - Mexican Cabaret
Dribble's Sights of London Trip
Monologue: The New Vicar
Quickies - 4
Guests: Dilys Watling - That Ain't No Way To Treat A Lady
Eddie Buchanan - Song of El Paso
Tag: Sports Day
Highlights
Edit
Quickies on a Dance Floor
Benny does takes as Ironsides and Kojak, two American TV detectives
Sports Day
---
Fred Scuttle - "He's seen The Exorcist three times. I don't know what possessed him."
---
---
Priest - "Don't jump my son! Think of your wife and family!"
Man on a Ledge - "I am. That's why I'm jumping!"
---
Male Dancer - "Remember, my dear, if we get married, we will have to keep it secret on account of my fans."
Female Dancer - "But what if we have a baby?"
Male Dancer - "Well, we'll tell the baby..."
---
Male Dancer - "My dad taught me to swim when I was only three. He took me to the lake and tossed me in. I wouldn't have mnded except everyone else was skating."
---
---
---
---
Kojak - "No, lady, I can't go looking for your dog. Why don't you put an ad in the newspaper?" (Kojak gets an unheard response over the phone) "Your dog can't read...."
---
---
Benny Hill -"Reading a book called the naked and the dead... Reminds me of my wife."
---
Benny Hill -"That's what the public wants... New faces."
---
Benny Hill - "It took an hour to put out the fire. Two to put out the firemen."
---
Benny Hill - "A woman like that could ruin a man... if he was lucky."
---
Benny Hill - "She uses so much perfume that when she stands still, she leaves a puddle."
---
Benny Hill - "Yesterday, she had four potatoes and custard, gefilte fish fingers, swee and sour tripe and jelly on chips."
Jackie Wright - "All the same day?"
Benny Hill - "All the same plate! She said, "What should I have to wash it all down?' I said 'Niagara Falls.'"
"Ironsides" and "Kojak" were both popular American crime dramas in the 70s. Benny reprised both characters in the same sketch in Murder on the Oregon Express.
---