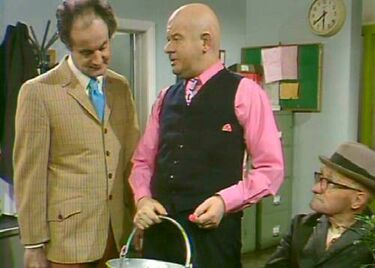 Production
Edit
Episode: 25
Date: December 17, 1975
Time: 50:17
Musical Director:
Vocals: The Ladybirds
Choreography:
Producer: Mark Stuart
Director:
Writer: Benny Hill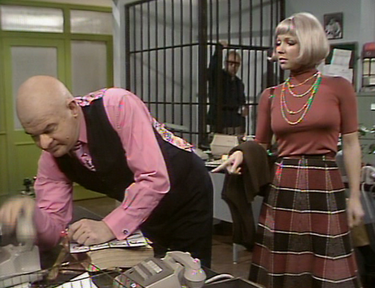 Quickie: Don't Jump!
A Host of Favorite Stars
Pearl And Plain
Shopping Center
Fred Scuttle: Mind Reader
Quickie: Disorder in the Office
Quickies on a Dance Floor
Jack And Jill

Ironsides
That's Life
Cyril's Scrap Book
Kojak

Eddie Buchanan - Mexican Cabaret
Dribble's Sights of London Trip
Monologue: The New Vicar
Quickies - 4
Guests: Dilys Watling - That Ain't No Way To Treat A Lady
Eddie Buchanan - Song of El Paso
Tag: Sports Day
Highlights
Edit
Quickies on a Dance Floor
Benny does takes as Ironsides and Kojak, two American TV detectives
Sports Day
"Reading a book called the naked and the dead... Reminds me of my wife." - Benny Hill
"That's what the public wants... New faces." - Benny Hill
Benny Hill - "They tend to imply he was one of these male witches."
Henry McGee - "Warlocks."
Benny Hill - "That's what I said!"
"He's seen The Exorcist three times. I don't know what possessed him." - Benny Hill
Dilys Watling - "The chief clerk just raped me!"
Benny Hill - "Well, I can't do everything!"
"Ironsides" and "Kojak" were both popular American crime dramas in the 70s. Benny reprised both characters in the same sketch in Murder on the Oregon Express.
---
Ad blocker interference detected!
Wikia is a free-to-use site that makes money from advertising. We have a modified experience for viewers using ad blockers

Wikia is not accessible if you've made further modifications. Remove the custom ad blocker rule(s) and the page will load as expected.