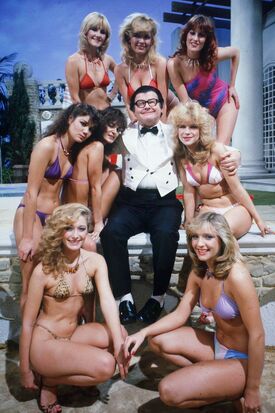 The Hill's Angels was a song and dance troupe comprised of beautiful girls briefly preceded by Love Machine on "The Benny Hill Show." They accompanied Benny Hill in song and dance routines and as dancers in longer comedy sketches, such as in the Little Dimpton Dance Party. Comprised of experienced dancers, their routines ranged from the simple dance acts to the sultry and erotic routines, such as the Invisible Striptease from the February 10, 1982 episode, as well as playing background characters in comedy sketches. The most popular members were Sue Upton and Louise English, who had several solo appearances in the series, and actress Jane Leeves, who appeared as a Hill's Angel between 1983 and 1985.
More photos will be added as they become available.
Not Pictured (Need images of): Fiona Baker, Lindsay Cole, Nikki Critcher, Claire Fairgood, Miki Harvey, Sharon Haywoode, Debra Hemmings, Lisa Jackman, Tee Jay, Faye Mertens, Lisa Mulidore, Lisa Price, Katie Randall, Debbie Scamp, Jo Thomas and Vivienne Warman.
Episode(s)
Edit
---
Ad blocker interference detected!
Wikia is a free-to-use site that makes money from advertising. We have a modified experience for viewers using ad blockers

Wikia is not accessible if you've made further modifications. Remove the custom ad blocker rule(s) and the page will load as expected.