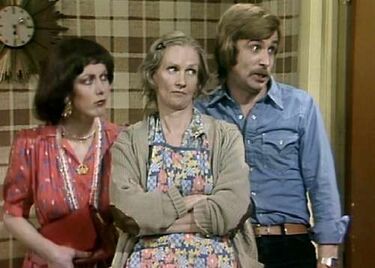 Helen Horton is an English-American actress whose career spans over five decades in film and television. Not much about her life and career is known. She was born on November 21, 1923 in Chicago, Illinois to Frances Catherine Stewart and Walter Clark Horton. Her first acting job was in the short, "The Long Christmas Dinner," but her first starring role was in the British TV series, "The Wide, Wide World." Her television appearances include the English TV Shows "Saturday Playhouse," "Danger Man," "Hurricane," "Gilbert and Sullivan," "The Big Pull," "Go West, Young Man," "Emergency-Ward 10," "Out of the Unknown," "Brett," "Anne of Green Gables," "Two's Company," "Shades of Greene," "Yes, Honestly," "Bernie" and "Room Service." She was also a recurring cast member on "The Benny Hill Show," often playing Benny's nagging wife in sketches, a role shared by Bella Emberg ad Anna Dawson. Her movie appearances include the 1953 film "The Village, "The Mark of the Hawk" and "The Last Shot You Hear," "Superman III" and "Phase IV." She also supplied the voice of the alien in the 1974 cult science fiction hit, "Alien." She passed away in England in 2009, survived by her husband, Hamish Thomson, and her son, actor/musician Jamie Thomson. Her grand-daughter is actress Lily James, best known for playing Lady Rose in ITV's "Downton Abbey."
Episode(s)
Edit
---
Ad blocker interference detected!
Wikia is a free-to-use site that makes money from advertising. We have a modified experience for viewers using ad blockers

Wikia is not accessible if you've made further modifications. Remove the custom ad blocker rule(s) and the page will load as expected.