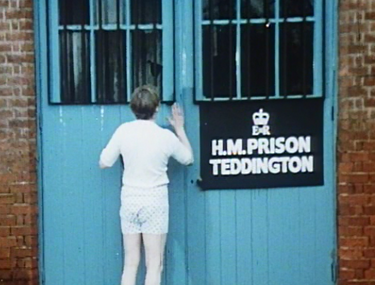 Her Majesty's Prison Teddington is a royal prison in the small town of Teddington, a town within the northwest of Greater London. It suffers an escape when one of its prisoners (Benny Hill) breaks through its walls, evading its guards and stealing clothes to run loose through the area. Forced to dress as a woman, he unfortunately finds himself the source of attention by two cops who thinks he's cute. Forced to shed his female costume, he runs loose through the area again before getting the attention of two affectionate lady cops, driving him to try breaking into prison again.
Episode(s)
Edit
---
Ad blocker interference detected!
Wikia is a free-to-use site that makes money from advertising. We have a modified experience for viewers using ad blockers

Wikia is not accessible if you've made further modifications. Remove the custom ad blocker rule(s) and the page will load as expected.