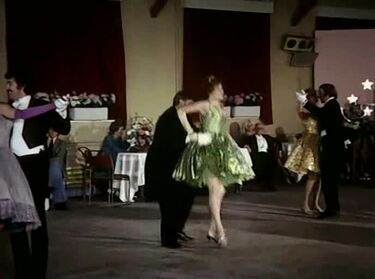 Production
Edit
Episode: 20
Date: December 27, 1973
Time: 50:28
Musical Director:
Vocals: The Ladybirds
Choreography:
Producer: John Robins
Director: John Robins
Writer: Benny Hill
Quickie: Batman
Ballad of Diaper Dan
Fred Scuttle Chunnel Tunnel
Quickies - 6
Great British Dancing Finals
Guest: Ann Shelton - Galilee Song
Departure Lounge with Merwyn Cruddy
Quickie: No Milk!
Lady Birds - Broadway Melodies
Little Bo Peep - 5
Tag: The Park Bench
Highlights
Edit
Fred Scuttle Chunnel Tunnel
Great British Dancing Finals
First appearance of Andree Melly
In the Chunnel sketch, Bob Todd pours medicine into a spoon, drinks from the bottle then pours the spoon portion back into the bottle. Little Rascal George "Spanky" McFarland also did this bit in the "Our Gang" short, "Hook And Ladder."
Benny does a parody of the American drama TV series, "Ironsides."
---
Ad blocker interference detected!
Wikia is a free-to-use site that makes money from advertising. We have a modified experience for viewers using ad blockers

Wikia is not accessible if you've made further modifications. Remove the custom ad blocker rule(s) and the page will load as expected.