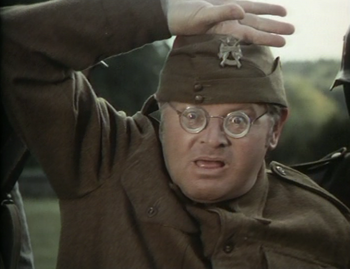 Gavin Blod is a Twentieth Century English musician, the son of George Henry Blod (Benny Hill), the footman, gardener and handyman of Lord Denby (Jackie Wright) and Emily Turnball (Diana Darvey), the Denby's maid. The two of them married on September 15, 1907 and honeymooned in Botnor Regis with infant Gavin in attendance.
Named after a sailor Emily knew, Gavin never talked until he was seven years old, but he was considered musical. In 1914, his father was drafted to fight in German East Africa never to return. he married an Ubangi Lady. His mother moved to Fruiton-on-Sea and raised funds for Gavin to attend schooling in Milan and Paris. One of his teachers was Janine Bovine (Benny Hill) at the Ecole des Merchants Nancy, who considered him a delicate yet high-strung boy who studied music and began composing music. His studies were delayed by getting drafted into the Army.
Placed in the infantry, Gavin played the cello in the foxholes for his troops, distracting them from the war while instilling his love of music into others. He was captured by German soldiers while distracted by his music and sent to Colditz Prison, using his piano as a means of escape. Two years after the war, he was studying music under composer Baron Schtuk (Benny Hill).
Gavin met eventually met opera singer Mariah Carlisle (Lee Gibson) in 1949. Though she was promised to Count Macavarni (Henry McGee), Gavin defeated Macavarni by introducing a pistol into their duel. Gavin married Mariah on March 15, 1950, discovering her opera voice could shatter all the ceramic objects in their house. They divorced two years later.
Returning to England, Gavin eventually played for Ivy Fiske (Benny Hill) of the Amateur Light Orchestra, but he started drinking after Pop Music displaced his style of music. After playing in the street a few years, he took to his bed in 1962 filled with remorse. He passed away May 12, 1974 after a visit from a sexy nurse (Diana Darvey). He never heard the brass band in his hometown of Widlock play his tune, "Bird of Freedom."
Benny Hill played five characters in this sketch.
Bob Todd played around five characters in this sketch. Jackie Wright played around four while Diana Darvey played two.
The hospital location in the sketch looks like the same set from the Lower Tidmarsh Volunteer Hospital sketch from The European Song Contest.
Episode(s)
Edit
Ad blocker interference detected!
Wikia is a free-to-use site that makes money from advertising. We have a modified experience for viewers using ad blockers

Wikia is not accessible if you've made further modifications. Remove the custom ad blocker rule(s) and the page will load as expected.