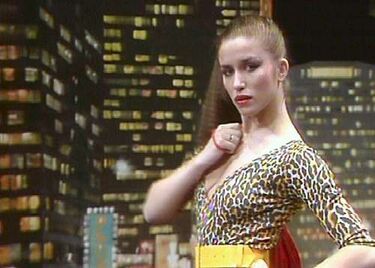 Francesca Whitburn is an English actress and dancer who starred as one of "Pan's People" in the Late 70s, along with Pauline Crawford, Abigail Higgins, Patricia McSherry and Sarah Woollett. She also starred as a pre-Hill's Angels cast member on "The Benny Hill Show," appearing in the "Soar-Away Sum" blooper of April 25, 1979. She later starred in the TV series, "The Professionals" and "Minder." Today, she works as a choreographer; her credits include stage productions of "The Secret Diary of Adrian Mole" in 1987 and "Cinderella" in 2006.
Episode(s)
Edit
---
Ad blocker interference detected!
Wikia is a free-to-use site that makes money from advertising. We have a modified experience for viewers using ad blockers

Wikia is not accessible if you've made further modifications. Remove the custom ad blocker rule(s) and the page will load as expected.