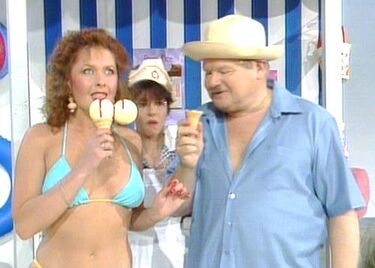 Production
Edit
Episode: 50
Date: April 8, 1985
Time: 51:17
Musical Director: Ronnie Aldrich
Vocals: The Ladybirds
Choreography: Libby Roberts
Producer: Dennis Kirkland
Director: Dennis Kirkland
Writer: Benny Hill
Quickies - 3
Ballad - What A World
Bill Posters
Quickies - 3
Forever Love
The Feminine Dictionary
Hill's Angels: The Oddball Club Cabaret
Fred Scuttle: Independent Cinema
Tag: "Hullo, Sailor!"
Highlights
Edit
Benny warps the English Language with his "Feminine Dictionary"
This episode appears on the "Golden Grins" VHS.
---
Ad blocker interference detected!
Wikia is a free-to-use site that makes money from advertising. We have a modified experience for viewers using ad blockers

Wikia is not accessible if you've made further modifications. Remove the custom ad blocker rule(s) and the page will load as expected.