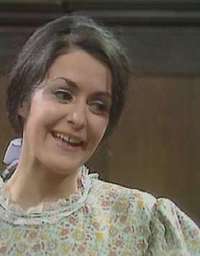 Eira Heath is an English singer and actress of Welsh descent best known for the movies "Gang War," "A Man for All Seasons" and "The Best of Benny Hill."
She was born Eira Gwen Heath on January 17, 1936 in Rochford, England, although another source gives her birthplace as Westcliff-on-Sea, England in 1940. She was educated at St. Bernard's Convent in Westcliff. She started out as a musical-comedy performer on stage, radio and TV, later appearing in the 1966 movie, "A Man For All Seasons." She also played Hippolyta in the 1964 Rediffusion London TV production of "Shakespeare's A Midsummer Night's Dream" with Benny Hill and Kay Frazer. While starring in music programs on BBC Radio, she starred in the first season of "The Benny Hill Show," but she stayed with the BBC until the 1980s. She has been married to Toby Jessel since 1980.
Episode(s)
Edit
---
Ad blocker interference detected!
Wikia is a free-to-use site that makes money from advertising. We have a modified experience for viewers using ad blockers

Wikia is not accessible if you've made further modifications. Remove the custom ad blocker rule(s) and the page will load as expected.