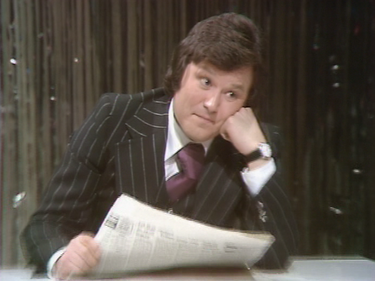 Edgar "Eddie" Buchanan was an English singer, actor and entertainer best known for his appearances on "The Benny Hill Show."
A contemporary of Eddie Large and Johnny More, he was born in 1939 in Newcastle-upon-Tyne, England and got his start singing in nightclubs during the 1950s. He eventually landed a role as a singer and talent in Benny Hill's TV repertoire, playing various roles and performing musical numbers with the cast members through eight episodes. After leaving the series, he and his wife developed a traveling comedy act on overseas tours which included Australia, Central and East Africa, Spain and Portugal. He also recorded a cover of the song "My Special Angel." Ten years after leaving "The Benny Hill Show," Eddie passed away at the age of 47 on April 24, 1987, after a long illness following a heart operation. He was survived by his wife, Susan Wilson, and their nine-year-old son, Robert.
Episode(s)
Edit
---
Ad blocker interference detected!
Wikia is a free-to-use site that makes money from advertising. We have a modified experience for viewers using ad blockers

Wikia is not accessible if you've made further modifications. Remove the custom ad blocker rule(s) and the page will load as expected.