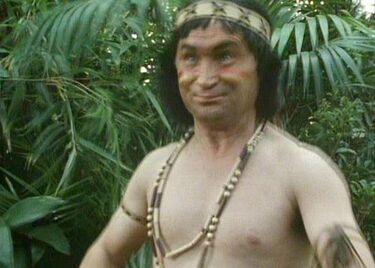 Duggie Small is a Scottish actor and comedian probably best known for his appearances on "The Benny Hill Show" and "New Faces."
Small was born Alexander Cairns in 1946 in Glasgow, Scotland, the son of a bus driver. He started out as a Newmarket jockey, making 300 rides and two wins until a back injury ended his career. Turning to comedy, he plunged into the Glasgow club circuit and appeared on the British TV variety series, "New Faces," in 1986, winning over all the other contestants on the show and appearing on two episodes of "The Benny Hill Show" in 1989. Despite the appearances, his comedy act never reached extraordinary success, and he remained on the cabaret circuit performing his comedy bits, including impressions and his "Superman" routine, his signiture act. His son, Sean Cairns, one of four kids by wife, Helen, was a former professional footballer, joined him to cover the lighting for Duggie's shows.
Episode(s)
Edit
---
Ad blocker interference detected!
Wikia is a free-to-use site that makes money from advertising. We have a modified experience for viewers using ad blockers

Wikia is not accessible if you've made further modifications. Remove the custom ad blocker rule(s) and the page will load as expected.