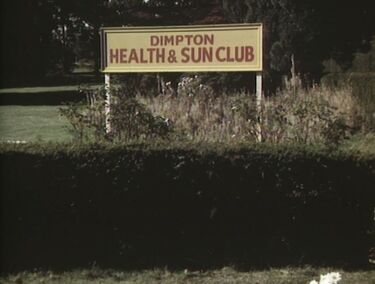 The Dimpton Health & Sun Club is an English health spa, possibly in Little Dimpton. One of the guests, (Benny Hill), gets distracted by two of the sun-bathing beauties and tries to give them flowers, only to be fended off by their boy friends (Jackie Wright and Bill Weston in heavy beards and wigs). He follows another buxom beauty (Diana Darvey) to the gym and nearly gets punched by a guy wearing boxing gloves (Jackie Wright) behind a curtain. They head outside to settle their score, but the other guests pull them apart. Wandering off, the lovelorn hero heads off through the door of the men's gym, whose door swings closed to reveal it's the women's gym, and he's soon sent running by a bevy of beautiful ladies wrapped in towels.
Episode(s)
Edit
Ad blocker interference detected!
Wikia is a free-to-use site that makes money from advertising. We have a modified experience for viewers using ad blockers

Wikia is not accessible if you've made further modifications. Remove the custom ad blocker rule(s) and the page will load as expected.