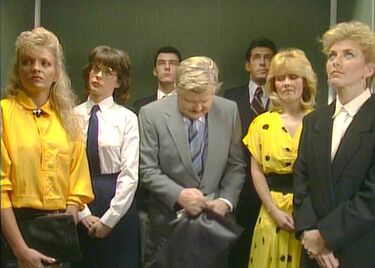 Production
Edit
Episode: 56
Date: April 27, 1988
Time: 50:37
Musical Director: Ronnie Aldrich
Vocals: The Ladybirds
Choreography: Libby Roberts
Producer: Dennis Kirkland
Director: Dennis Kirkland
Writer: Benny Hill
Quickies - 5
Monologue: Bronco Benny
Quickies - 9
Joggers
Pigeon English
The Butcher Shop
Club Chicago-Go
Quickies - 4
Tag: Down with President Fargas
Highlights
Edit
This episode appears on the "Golden Yucks" VHS.
The closing sketch "President Fartas" was filmed at Thorpe Park in Surrey, England.
This episode features motorcycle stunt work by the Royal Artillery Motorcycle Display Team.
---
Ad blocker interference detected!
Wikia is a free-to-use site that makes money from advertising. We have a modified experience for viewers using ad blockers

Wikia is not accessible if you've made further modifications. Remove the custom ad blocker rule(s) and the page will load as expected.