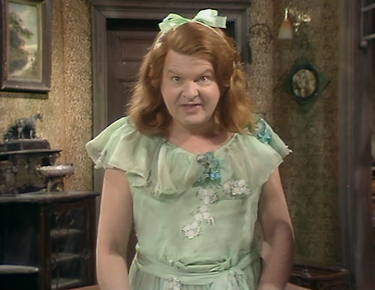 Cissy is the main character in the playlet, "The Long Dry Summer," by Tennessee Robbins.
Cissy lives with her mother (Stella Moray) in a Southern mansion. One day, she is late getting home because the strange man following her can't walk very fast. Her mother wants her to marry, mentioning a local boy Norton Short who Cissy can't stand because he acquired a theater to admire the wall-to-wall carpet and only allowing anyone over 70 in free if accompanied by their parents. Although having been faithful to Norton several times, Cissy admits she liked Elmer Johnson, who her mother disapproved of for beng a city slicker. She also describes how her mother put off a boy named Jed by arriving late to a clambake after following a cow late for milking, putting a fried egg in her malted milk and thinking a phone had been installed in a tombstone at the end of cable. Breaking down, Cissy reminds her mother when she got hurt falling out of a tree and lost her teddy bear, woolly panda, doll and pet skunk and didn't get a cookie. Adding she likes visiting Choctaw Ridge, she learns her father proposed to her mother there before dying, which makes Cissy something. Her mother says she was a mean one too.
Lester (Bob Todd), the old black manservant then enters to announce he has to move on as he's not making enough money. When Cissy presses him further, he shows a note from a father saying that Lester made all his daughters pregnant, something Cissy announces Lester has done twelve times that year and it was only January 4.
Cissy's suitor, Mr. Arvutis (Jackie Wright), arrives to woo her, but they just share insults at each other on the sofa. When Cissy's mother enters to see how they're getting on, he admits he actually wanted to marry her instead of Cissy, who insists on running away with Lester. When Cissy's mother wants to know why, Cissy shows her Lester's note and leaves with him.
Episode(s)
Edit