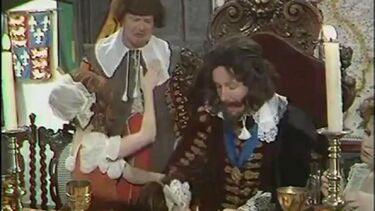 Production
Edit
Episode: 9
Date: March 24, 1971
Time: 50:24
Musical Director:
Vocals: The Ladybirds
Choreography:
Producer: John Robins
Director: John Robins
Writer: Benny Hill
Quickie: Unfaithful Dance
Monologue: Dance of Love
French for Starters
The Grass is Greener
Supermarket Dance
Benny: Behind The Scenes
The Ladybirds: Close to You
Cinema: The Vintage Years
Bloopers - 3
The French Bonanza

German Butter
Cavern Keg Beer
Opportunity Knokkes

Westminster Funsters
Chow Mein
Tag: Man in a Wheelchair
Highlights
Edit
Benny Hill - "What do you call a man who marries another a man? A vicar."
---
Benny Hill - "How do male elephants find female elephants in the long grass? Very nice."
First appearance of Andree Melly
The series once again reverts back to color after three episodes in black and white.
The castles in the Messenger skit are Sissinghurst in Kent and Edinburgh Castle in Scotland.
The Westminster Funsters shows a rare political satire directed at Edward Heath (Prime Minister of the United Kingdom from 1970 to 1974), Harold Wilson (Prime Minister of the United Kingdom from 1964 to 1970) and Enoch Powell (Conservative Member of Parliament from 1950 to 1974).
Several clips from this episode made it into the The Best of Benny Hill.
---
Ad blocker interference detected!
Wikia is a free-to-use site that makes money from advertising. We have a modified experience for viewers using ad blockers

Wikia is not accessible if you've made further modifications. Remove the custom ad blocker rule(s) and the page will load as expected.