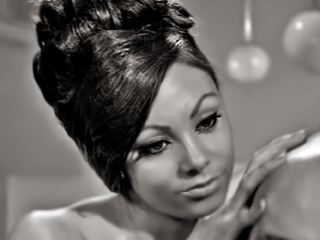 Carmen Dene is an English actress known for the movies "Deadfall," "Genghis Khan" and "The Trygon Factor." Not much is known about her life and career. Born in Liverpool, England, her TV appearances include roles on "The BBC Sunday Night Play," "The Wednesday Play," "The Airbase," "Armchair Theatre," "The Avengers," "Mickey Dunne," "Virgin of the Secret Service" and "Public Eye," eventually playing the role of a native girl on "The Benny Hill Show" in a Jacques Cousteau spoof. She also had an uncredited role in the James Bond movie "Goldfinger," followed by appearances in "Peace at Any Price," "Genghis Khan," "Carry on Cowboy," "The Mexican Girl," "The Trygon Factor," "The Cuckoo Patrol," "The Girl Guide," "Some Girls Do," and "The Bullet Machine."
Episode(s)
Edit
---
Ad blocker interference detected!
Wikia is a free-to-use site that makes money from advertising. We have a modified experience for viewers using ad blockers

Wikia is not accessible if you've made further modifications. Remove the custom ad blocker rule(s) and the page will load as expected.