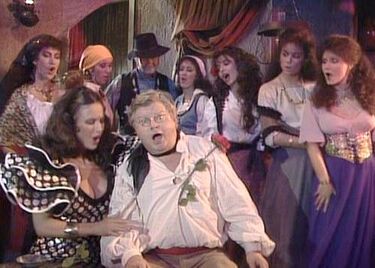 Production
Edit
Episode: 51
Date: May 27, 1985
Time: 50:34
Musical Director: Ronnie Aldrich
Vocals: The Ladybirds
Choreography: Libby Roberts
Producer: Dennis Kirkland
Director: Dennis Kirkland
Writer: Benny Hill
Quickies - 3
Ballad: Costa Coco
The Weather Hut
Quickie: Religious Intervention
The Lover
Quickie: The Verdict
Carmen
Quickies - 7
Tag: Dibbles Health Farm
Highlights
Edit
The Lover
Dibbles Health Farm
This was the last episode for Jackie Wright who left the series because of health problems.
Selected sketches from this episode appear in the "Golden Smiles" VHS from HBO Home Video.
---
Ad blocker interference detected!
Wikia is a free-to-use site that makes money from advertising. We have a modified experience for viewers using ad blockers

Wikia is not accessible if you've made further modifications. Remove the custom ad blocker rule(s) and the page will load as expected.