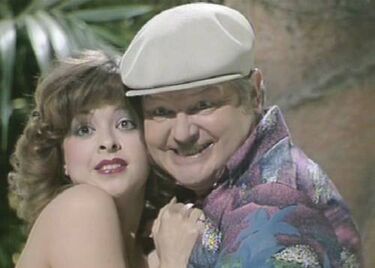 Camilla Blair is an English actress and dancer who starred as one of the Hill's Angels on "The Benny Hill Show." She appears in the opening of the "Keep Young and Beautiful" number on the February 11, 1981 episode. She also appears in a quickie on the March 25, 1981 episode. After leaving the show, she appeared as a dealer on "Play Your Cards Right." Her credits also includes "The Val Doonican Music Show." She now works behind the scenes in clothes and costuming.
Episode(s)
Edit
---
Ad blocker interference detected!
Wikia is a free-to-use site that makes money from advertising. We have a modified experience for viewers using ad blockers

Wikia is not accessible if you've made further modifications. Remove the custom ad blocker rule(s) and the page will load as expected.