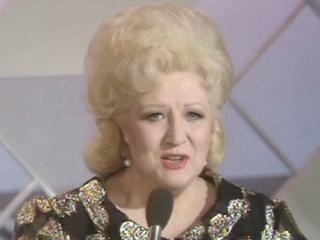 Anne Shelton was a popular English vocalist known for providing inspirational songs for soldiers during World War II both on radio broadcasts and in person at British military bases.
Born Patricia Jacqueline Sibley on November 10, 1923 in Dulwich, London, she began singing at age 12 on the radio show "Monday Night at Eight," receiving a recording contract by age 15. She did a tour of military bases in Britain during World War II and had her own radio program, "Calling Malta," from 1942 to 1947. She was invited by Glenn Miller to sing in France with him and his orchestra in 1944, but she had to decline because of prior commitments. She later appeared with Bing Crosby on the Variety Bandbox radio program.
Through the Late Forties,Shelton recorded the songs, "If You Ever Fall in Love Again," "Galway Bay," "Be Mine" and "Lay Down Your Arms" which was the #1 hit song in 1956 in the UK. She also had a Top 10 hit in 1961 with her cover version of "Sailor" and was also the original singer in the United Kingdom of the song "Lili Marlene. She also participated in BBC Television's "A Song for Europe," her song, "I Will Light a Candle," placing fourth. She made another attempt at Eurovision in 1963 with "My Continental Love," and came fourth again. She also released the songs "Lay Down Your Arms," "Sailor," "Seven Days," "The Village of St Bernadette" and "It Won't Be Long 'Til Christmas."
During her career, Shelton also sang and acted in several films, including "Miss London Ltd.," "King Arthur Was a Gentleman," and "Bees in Paradise." She also appeared in several Royal Variety Performances, occasionally accompanied by her sister, Jo Shelton, who was also an accomplished and popular singer. For her December 23, 1973 appearance on The Benny Hill Show, she sang "The Galilee Song," changing the words of one verse to describe briefly her father's positive influence on her family when she was growing up.
In 1990, Shelton was awarded the OBE for her work with the "Not Forgotten Association," a charitable organisation for disabled former service personnel from all wars. In fact, she continued to perform at concerts, charity and anniversary concerts until she passed away on July 31, 1994 in Herstmonceux, Sussex on July 31, 1994 of a heart attack. She is buried at Camberwell New Cemetery in Brenchley Gardens near Camberwell, London.
Episode(s)
Edit
---
Ad blocker interference detected!
Wikia is a free-to-use site that makes money from advertising. We have a modified experience for viewers using ad blockers

Wikia is not accessible if you've made further modifications. Remove the custom ad blocker rule(s) and the page will load as expected.