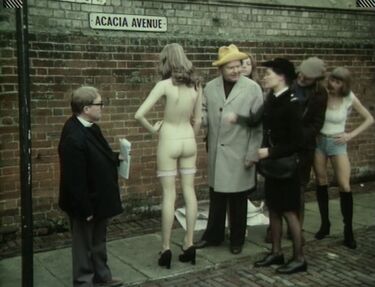 The Acacia Avenue Safari Park is an English location, possibly in Lower Tidmarsh, Little Dimpton or Teddington. Out on the street, several locals (Libby Roberts, Henry McGee and Moira Foot?) along with a priest (Don Estelle) are alarmed by what looks like a man (Benny Hill) with a scantily clad girl on the street. A police woman (Jeannie Collings) shows up to investigate, and the man reveals it's just mannequin which he drapes his overcoat over to explain to the officer. Meanwhile, a woman in an overcoat (Debbie Greenhill?) strolls up, and as the miscreant reveals his mannequin, he rips off her coat to reveal her underwear, inciting a melee. He flees the by-standers into the park where he jumps onto an ostrich to ride to freedom.
Episode(s)
Edit
Ad blocker interference detected!
Wikia is a free-to-use site that makes money from advertising. We have a modified experience for viewers using ad blockers

Wikia is not accessible if you've made further modifications. Remove the custom ad blocker rule(s) and the page will load as expected.