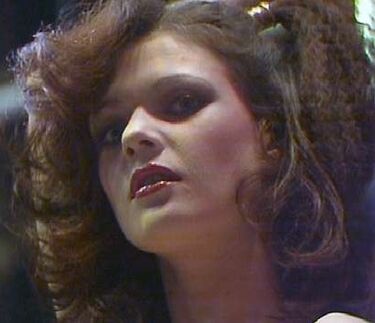 Abigail Higgins is an English actress and dancer, best known for her appearances on "The Benny Hill Show." There is not much info on her life or career; she was a member of the second generation of Pan's People with Louise English, later joining her in becoming one of the Hill's Angels on "The Benny Hill Show." Brunette and bosomy, she was also a member of Benny's comedy repertoire, playing a sexy neighbor in the "Yield to the Dawn" sketch on the April 25, 1979 episode and a lady explorer on the March 25, 1981 episode. She continued on the show largely uncredited, appearing with Jackie Wright in "Stupid Cupid" and as a bank teller in the "Fingers McNee" sketch as late as the January 16, 1984 episode. Her only other known TV credit was in a TV special for comedian Bruce Forsyth. There are no details where she is now, but she is possibly no longer in show business.
Episode(s)
Edit
---
Ad blocker interference detected!
Wikia is a free-to-use site that makes money from advertising. We have a modified experience for viewers using ad blockers

Wikia is not accessible if you've made further modifications. Remove the custom ad blocker rule(s) and the page will load as expected.