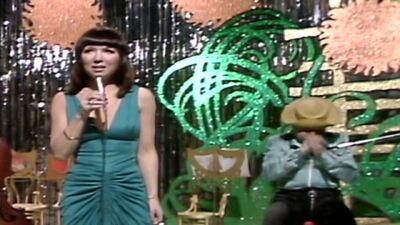 Production
Edit
Episode: 31
Date: March 23, 1977
Time: 49:41
Musical Director:
Vocals: The Ladybirds
Choreography:
Producer: Mark Stuart
Director: Mark Stuart
Writer: Benny Hill
The Drunk Newscaster

Coronation Street
Super Sonic
Sports with Dickie Davies
Starsky and Hutch

Casanova
Blooper: Wrong Legs
Guest: Dilys Watling - You Give Me Fever
The Granny-Riding Contest
A Feast on the Beach
Wide Screen Films: Deep In My Heart
Quickie: The Peeping Tom
Girls, Girls, Girls
Blooper: Bristles
Westminster Follies
Chinese Package Tours
Tag: The Milkman Chorus
Highlights
Edit
Husky and Starch/Starsky and Hutch
Casanova
A Feast on the Beach
Girls, Girls, Girls
Westminster Follies
Harold Wilson - "Don't worry about me, love. I've got a wife and a lighter, and they both work."
This was the last episode for Eddie Buchanan.
This was the last episode with Mark Stuart as director and producer.
Anne Bruzac was credited as "Froggie" for this episode.
This episode features one of the few known political satires by Benny Hill. The skit features puppets of Margaret Thatcher, James Callaghan, Dennis Healey, Harold Wilson, Edward Heath and Enoch Powell. Their voices were done by Benny Hill, Dilys Whatling and Eddie Buchanan.
"Husky and Starch" is a spoof of the American crime-drama TV series "Starsky & Hutch."
Selected sketches from this episode appear in the "One Night Video Stand" VHS from HBO Home Video. 
---
Ad blocker interference detected!
Wikia is a free-to-use site that makes money from advertising. We have a modified experience for viewers using ad blockers

Wikia is not accessible if you've made further modifications. Remove the custom ad blocker rule(s) and the page will load as expected.